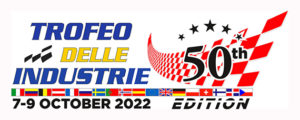 The 50th edition of the Trofeo delle Industrie will be at the South Garda Karting of Lonato  next October 7-9.
Another record for the Trofeo delle Industrie: a total of 285 drivers from 46 nations are ready to celebrate the 50th edition of this historic event that will take place at the South Garda Karting circuit of Lonato next October 7 – 9, 2022. This is the right acknowledgment for the most ancient race in the world that has been organized by Parma Motorsport since 1971: 50 years of karting history!
All categories packed.
The entitled categories are MINI Gr.3, OKJ, KZ2, X30 Senior and X30 Junior and will seen the presence of the most important international teams. The numbers of MINI Gr.3 are quite big as 100 young emerging talents coming from 27 different countries will gather to Lonato. These figures are important because they guarantee, in general, continuity for the karting world and for the Trofeo delle Inustrie in particular. The participation in all categories is quite good and the starting grids will be full and featuring strong contenders.
Drivers from all over the world.
The 46 different nations represented at the 50th Trofeo delle Industrie cover all five continents and the highest number of foreign representatives is that of Sweden with 13 drivers, while the most numerous team is Team Driver with 20 drivers. The represented nations are: Argentina, Australia, Austria, Belgium, Brazil, Bulgaria, Canada, China, Colombia, Croatia, Czech Republic, Denmark, Ecuador, Finland, France, Germany, Hungary, Indonesia, Ireland, Israel, Italy, Japan, Malaysia, Malta, Monaco, Holland, Norway, Panama, Peru, Philippines, Poland, Portugal, Romania, Slovakia, Slovenia, South Africa, Spain, Sri Lanka, Sweden, Switzerland, Thailand, Turkey, Ukraine, Great Britain and United States.
The program of the 50th Trofeo delle Industrie:
Friday, October 7: 13:30 Qualifying practice; 15:40 Qualifying heats.
Saturday, October 8: 10:40 Qualifying heats.
Sunday, October 9: 10:30 Second chance races; 11:50 Prefinals; 14:30 Finals; 17:30 Prize Ceremony.
Parma, October 4 2022
Press Office
Parma Motorsport